Click on logo to visit our main page
VintageOrgans.Com has supplied many organs for popular events over the years. This page talks about some of our more recent popular organs. We have done others but in some cases we aren't allowed to brag about it :-)

Providing the organ for select Astros games!
VintageOrgans.com provides the organ for the Astros! at Minutemaid Park, Houston, TX. Organist Brian Granquist is at the keyboard in this photo.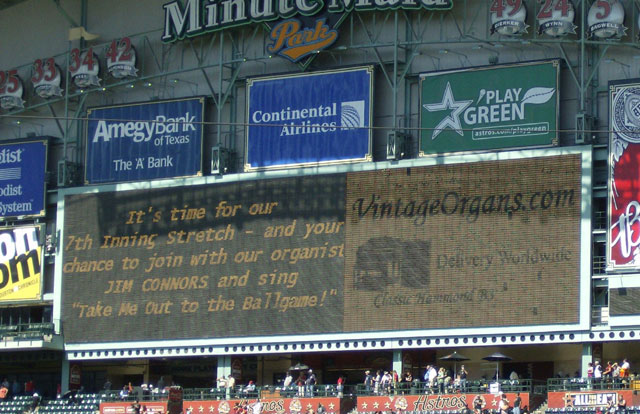 Jim Connors at the Astros organ
Jim Connors has since been named Official Astros Organist.
Here is a Channel 13 Houston News Story about the Astros Organ pm their 5/24/10 4pm Newscast
and another on their 5/24/10 6pm Newscast

Click on picture

VintageOrgans.Com provided the Hammond B3/Leslie for the Paramount/MTV Picture "The Fighting Temptations"


Vintage Hammond on the Set of the Fighting Temptations

How Much is my Hammond Worth?

Vintage Organs keeps the United States Air Force flying in good spiritual health by supplying Hammond B3/Leslie setups to US Air Force Chapels. We have now installed Hammond B3's at both the Cadet Chapel at the USAF Military Academy near Colorado Springs and at Eglin AFB in Florida.


USAF Military Academy Chapel

Proud to Supply Hammond Organs to the




Eglin USAF Base Chapel

ON TV AGAIN Vintage Organs is also proud to have been selected for a SECOND SEASON to provide Another Vintage Organs B3 and Two Leslie 122's for the Viacom/Paramount Pictures® production The Chris Isaak Show Mondays on Showtime®


Chris Isaak


Click on Image for more details

One of our Classic Hammond B3's now performs in Concert in Argentina
Visit Ignacio Subiros' Home Page

---

Another of our Famous Hammonds performs
in this Lakewood Church Video


Click on Image to visit Lakewood Church and for Ordering
Released & Available
---
VintageOrgans.Com provided 2- Hammond organs for the 2005 Tori Amos USA Tour
---
The US and THEM Band

1955 Hammond B-3 organ paired with it's original Leslie 122 cabinet from VintageOrgans.Com on stage for the annual Us and Them (Houston based Pink Floyd tribute band) New Year's eve celebration, 12/31/2007 at Fitzgerald's in Houston, Texas. The band and fans alike agreed that the instrument was the cornerstone in providing the full range of smooth, percussive, and raucous sounds alike that Pink Floyd's music became famous for!


Arranging Delivery of Classic Vintage Hammond Organs Anywhere in the World

Consignment-Buy-Sell-Service
Organ Transplants Are Our Specialty
For information on these or other Hammond Tonewheel Organs
available Online, Contact us by Email
or Phone 713-271-1244 for organ sales inquiries